You found the house, you made an offer, and the seller accepted. Congrats – you're on the golden road to buying your new house! But, you still have a long way to go. Remember, the process of both buying and selling a house is ultimately a financial transaction. When you're under contract, it means that a seller has accepted an offer from a buyer but that the sale isn't final yet. The house does not become marked as "sold" until the closing process is successfully completed.
The under-contract phase can be a stressful time for both buyers and sellers, but knowing what to expect and maintaining ongoing communication with your agent can make the process a little easier. Last time we talked about what you need to know before buying a house. Today we are going to talk about the basics of what happens when you are under contract.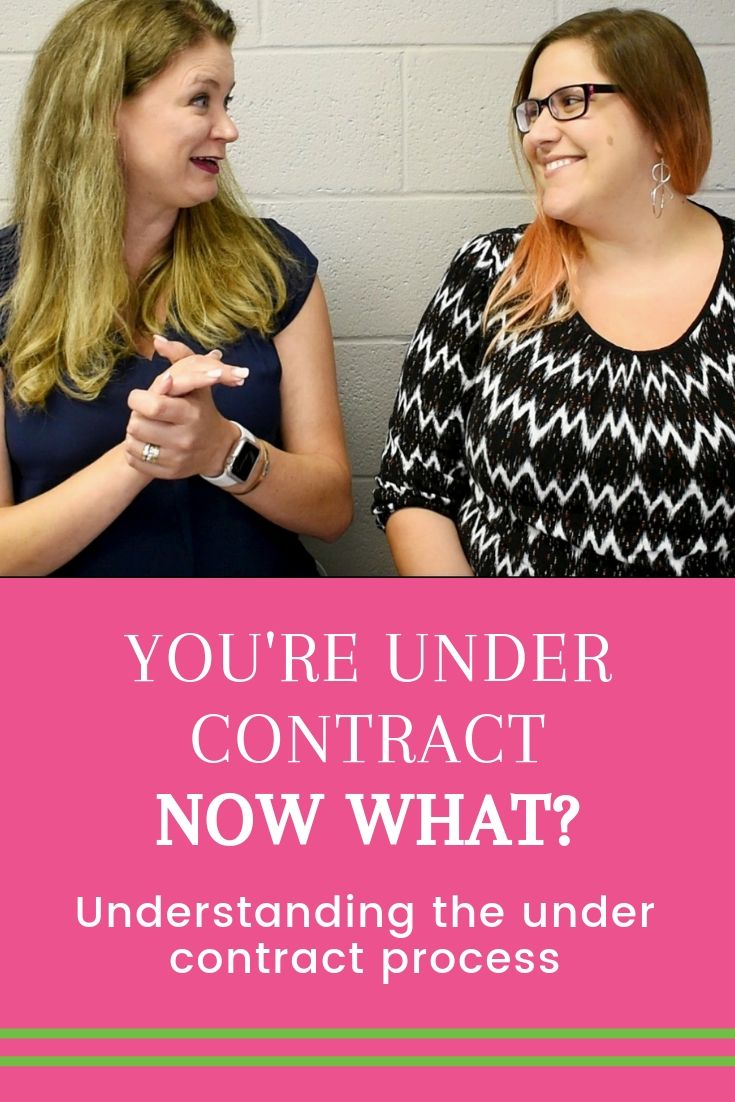 1) Scheduling Inspections
Once you're under contract, one of the first things that's going to happen is scheduling inspections. Scheduling inspections can be really labor intensive because they depend on the kind of house you're buying. We have to have a conversation with you and then cater your inspections to the house that you're actually buying. Every client is different too, and wants different things inspected. For instance, if your house has a septic tank, then we would want to consider a septic system inspection. Or, during the summer with crazy heat and HVAC units that are working overtime, we would schedule an HVAC inspection.
Scheduling inspections will most likely happen in the first 24 to 72 hours, and will definitely be one of the first things you work on taking care of when you come under contract.
2) The Underwriting and Loan Process
The next thing that we really want to pay attention to is what's called the underwriting process. You're under contract, you've got your pre-approval, and you think you're golden. Then, your mortgage lender starts calling with their laundry list of things that they need from you, also known as supporting documents. It can feel very daunting because you think you're all done when you get your pre-approval, but then… turns out you're not.
Supporting documents provide your lender a fuller illustration of your financial situation, and includes documentation for things like your income, debt, credit history, how you are financing your down payment, and more. This happens to everybody and not just you, so keep in mind that this is just another part of the process.
3) Repairs
Another important part of being under contract is the second round of negotiations. Some people don't pay attention to it because in North Carolina you are technically signing your contract as is, meaning when you do buy your home the seller does not have to do repairs. However, here in North Carolina we are also sweet and Southern. Often we ask our sellers to consider repairing some of the larger items, such as electrical, plumbing, structural, and HVAC problems.
The second round of negotiations is something that can and should happen, and at Bruins Realty Group, we have your back on that. Once we get the inspection report back, we will review it together line by line and go over any questions or concerns that you may have. And, keep in mind, that sometimes that does bring about additional inspections. Any additional inspections would still be completely normal and nothing to worry about, and it is something that we have a lot of experience in.
Conclusion
With all the paperwork, processes, and inspections that are involved, you are going to want someone with plenty of experience in real estate. At Bruins Realty Group, we have several team members well-versed in both buying and selling homes in North Carolina. We are readily available to help you, a family member, or friend with any aspect of the real estate process. Contact us today risk-free to learn more about how we can get you started!
Contact
Thank you guys so much for just taking a few minutes to read about what the under-contract process looks like. If you want to get in touch with us, you can call us at (336) 906-8785 or visit our website www.bruinsrealtygroup.com. You can also find more information on our Facebook, Instagram, and YouTube channels. If this post helped you at all, please share it!